Detail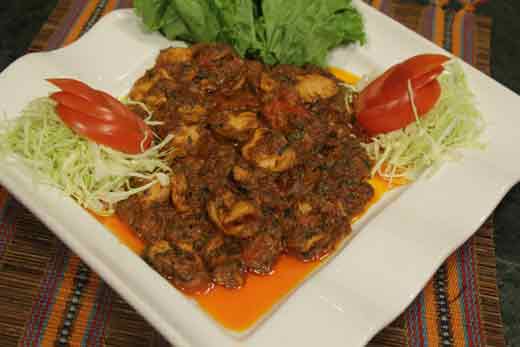 Ingredients
Chicken breast sliced 2
Oil 4 – 5 tbsp
Garlic 4 – 5 cloves
Onion chopped 1 medium
Lemon (juice) 2 whole
Tahini sauce 2 tbsp
Tomato 1
Celery stick 1
Tomato ketchup 2 tbsp
Tomato paste 2 tbsp
Chili powder 1 tsp
Salt to taste
Crushed black pepper ½ tsp
Worchester sauce 2 tbsp
Method
Heat oil in a pan, add 4 – 5 cloves of chopped garlic and sauté till golden brown.
Now add chopped onion, sliced chicken breast and 1 tsp chili powder, fry till chicken is a little tender.
Then add 2 tbsp tomato ketchup, 2 tbsp tomato paste and 2 tbsp Worchester sauce.
Cook for 5 – 6 minutes, then add ¼ bunch chopped parsley, 1 tomato, 1 celery stick, 2 tbsp tahini sauce, lemon juice, salt to taste and ½ tsp black pepper powder.
Cook for 3 – 4 minutes. Then remove in a platter and serve with boiled rice.