Detail
Timothy Grant Southee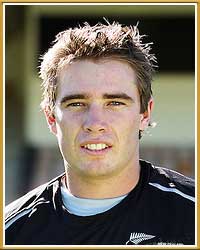 | | |
| --- | --- |
| Full name | Timothy Grant Southee |
| Born | 11 December 1988 (age 26) Whangarei, Northland, New Zealand |
| Height | 6 ft 4 in (1.93 m) |
| Batting style | Right-handed |
| Bowling style | Right-arm medium-fast |
| Role | Opening Bowler, Lower-order Batsman |
Early life:
Southee was born in Whangarei, New Zealand, and grew up in Northland. He was educated at Whangarei Boys' High School and King's College, Auckland. While at school he excelled at both cricket and rugby, playing representative rugby for the Auckland Secondary School and Northern Region teams. He made his first-class cricket debut for Northern Districts on 19 February 2007 at the age of eighteen, having already played an Under-19 ICC World Cup for New Zealand. He lives on a sheep farm in Whangarei with his family.
International youth representative:
Southee played under-19 cricket for New Zealand from 2006–2009. His under-19 career included 13 one-day matches – 10 at ICC Under-19 World Cups – and a drawn three-match Youth Test series against India in early 2007. His last youth appearance was at the 2008 ICC Under-19 Cricket World Cup, where he was player of the tournament. Southee was 17 years old when he debuted in the 2006 ICC Under-19 World Cup on 5 February, against Bangladesh in Colombo, Sri Lanka. He also played against Pakistan, Ireland, the USA and Nepal in that tournament. He ended with 5 wickets at an average of 38.8, and 113 runs at 22.6New Zealand lost the Plate Final to Nepal. In 2007 Southee played his only three Youth Tests when New Zealand hosted India. In the second match of the series, which New Zealand won, he took 6–36 and 6–56.[5] He finished the drawn series with 20 wickets at an average of 18.2.
International career:
Southee began his international career as one of the youngest ever to play for New Zealand. He has become a regular member of the international side in all three formats – Twenty20, one-day internationals, and test matches.
First Twenty20 matches for New Zealand:
New Zealand's selectors and coaches took great interest in Southee while he was still playing youth cricket. In 2007 national bowling coach Dayle Hadlee took him to India. Hadlee later said that while there Dennis Lillee had compared Southee's talent to that of Glenn McGrath when he was young. Hadlee, brother of New Zealand Cricket Selection Manager Sir Richard Hadlee, also said that he'd been "whispering in Black Caps coach John Bracewell's ear about the possibility of taking Southee on the upcoming tour of England." While in the selectors' eye Southee took 6/68 in the first innings of a first class match against Auckland in early December (the innings ended on his 19th birthday).[ Within a fortnight he was picked to play for a New Zealand XI side in a Twenty20 match against a Bangladesh side on 23 December 2007. The game, played at Northern Districts' home ground of Seddon Park in Hamilton, was a charity match for cyclone relief in Bangladesh, and not a full international. Southee bowled three overs and took 1/31.
Test match debut:
England were still touring New Zealand when Southee returned home from the 2008 Under-19 World Cup as player of the tournament. The one-day series was over but the three-match test was about to begin. When injury ruled Kyle Mills out of the third Test match, in Napier, Southee was added to the squad and made his Test match debut on 22 March 2008. Aged only 19 years and 102 days, he was New Zealand's seventh-youngest test debutant.
2008 season (northern summer):
At the end of the 2007–08 season a survey of New Zealand's first class cricketers named Southee the country's most promising cricketer and in April he was awarded one of New Zealand Cricket's 20 player contra]cts, placing him among the players with "the greatest likely future value to the Black Caps in the next 12 months" His rise was reflected in his selection for his first full international tour, to England, Ireland and Scotland from May to July. He played a single test match at Lord's, taking 0/59 in a drawn game, and seven one-day internationals (five against England and one each against the other two hosts). In the ODIs he took 16 wickets, averaging 16.93.
2008–09 New Zealand season:
Through the 2008–09 summer Southee competed for a place in the New Zealand team with more experienced bowlers like Iain O'Brien and Ian Butler. Game-changing performances like the previous summer's five-wicket bags eluded him, though he played 19 matches for his country.
Test matches in Australia:
New Zealand's summer began with a short tour to Australia for two test matches. Southee took a combined 5/225 in those matches, going wicketless in the second. Australia won the series easily] Later in the summer New Zealand returned to Australia for five ODIs and a Twenty20 match.
West Indies in New Zealand:
The first inbound tourists of the summer were the West Indies, beginning with a test series for which Southee was dropped. He returned to Northern Districts for the first time since the previous season The national team picked Southee again for two Twenty20s, across which he took 2/83 and five ODIs (5/180, with two matches being drawn due to rain)
ODIs and Twenty20s in Australia:
In February 2009 New Zealand visited Australia for a five-match Chappell–Hadlee Trophy ODI series and a single Twenty20. Southee played all the one-day matches but only took three wickets, averaging 84.33.The series was drawn 2–2 and Australia retained the Chappell–Hadlee Trophy. The Twenty20 match, which was a 1-run win to Australia, saw Southee take 1/31.
India in New Zealand:
New Zealand finished the summer hosting India for two Twenty20s, five ODIs and three tests. With Kyle Mills injured Southee played both Twenty20 matches, taking 1/42 and 1/36 New Zealand named a 12-man squad for the first three ODIs with Mills returning alongside Southee and fellow seam bowlers Iain O'Brien and Ian Butler. Initially Southee and Butler were seen as competing for a starting spot. Butler played all three matches but Southee replaced Iain O'Brien in the third. He was hit for 105 runs without taking a wicket[36] and then dropped from the squad. Southee played only in the third of the tests, ahead of Mills and Jeetan Patel. India continued to dominate him, and his 30 overs across both innings cost 152 runs for only 3 wickets.The match was a draw, letting India win the series 1–0.
2009 winter season – lower-level internationals:
Southee retained one of New Zealand Cricket's 20 player contracts for the 12 months from 1 August 2009[39] but through the winter season was left out of Black Caps teams. Instead he played as a New Zealand emerging player, and for New Zealand A. His results were encouraging but Shane Bond's return to international cricket gave him another rival for international selection.
Cricket Australia Emerging Players Tournament:
In late July and early August the Australian Institute of Sport hosted a four-team tournament including "emerging players" teams from New Zealand, India and South Africa. The tournament combined both Twenty20 matches (New Zealand played two) and one-day matches (six). Southee played all eight matches for New Zealand, finishing with 12 wickets – twice as many as any of his team-mates – at 28.66.He scored runs quickly with 55 off 56 balls in the one-days matchesNew Zealand won only one game.
New Zealand A tour to India:
Within a week of the tournament finishing in Australia, Southee arrived in Chennai, India to play four two-day games and a 50-over match with the New Zealand A side. Southee took only three wickets in the two-day matches (one in each of New Zealand's bowling innings, with one game ruined by rain). In the one-day match he took 3/37 off six overs This tour was also Shane Bond's return to New Zealand cricket, having been banned after he joined the rebel Indian Cricket League.Bond was then chosen ahead of Southee for the 2009 ICC Champions Trophy in South Africa
2009–2010 season:
After missing the 2009 winter season Southee became a regular selection for New Zealand in the 2009–10 summer, playing 18 of the season's 22 international matches against Pakistan, Bangladesh and Australia.[45] He also played ten HRV Cup matches for Northern Districts in January.
Against Pakistan:
With bowler Daryl Tuffey unavailable due to a broken hand, Southee regained a place in the New Zealand side that travelled to Abu Dhabi and Dubai to play three ODIs and two Twenty20s against Pakistan. Before the series captain and stand-in coach Daniel Vettori said he hoped that Southee could "cement his place" in the side.[49] Vettori picked him for all five matches, across which he took seven wickets (four in the ODIs, three in Twenty20s).
Tests:
The first day of the first test saw Pakistan take seven wickets in 65 overs. Southee, batting at 8, played through to the end of the 90-over day with Kane Williamson in a partnership that "prevented Pakistan's complete domination" earning his second test half-century in the process. He was out the next morning for 56, making him joint top-scorer for the innings. Southee also took two first-innings wickets, but over the second and third days Pakistan easily won the match
One day internationals:
Southee played five of the six ODIs. One was washed out in the third over, effectively making it a five-match series. Pakistan won 3–2.In the first match Southee won another man of the match award for taking his first ODI five-wicket bag, including three in his opening spell. His 5/33 helped bowl Pakistan out for 134, leaving an easy chase for his team. His figures faded through the series though, and in the last two matches he played (the fourth and sixth of the series) he didn't take any wickets. Across the series he took 7/217, averaging 31