Chicken Karahi Gosht is a popular meal of Pakistan that is a necessity of any special occasion. This recipe has a different special taste which you never want to miss. It goes perfect with naan, roti and raita. So enjoy this easy homemade chicken karahai recipe now.
Published Date : 12/19/2014
By :PK Mart
Detail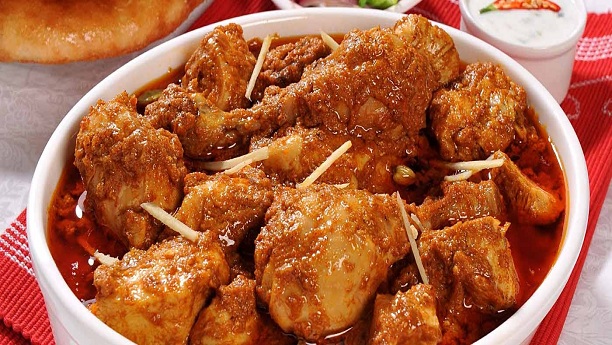 Ingredients :
1/2 kg Chicken
1/2 Tomato
1/4 Oil
2 tbsp dry red chili
1 tbsp Suki mehte
1 tsp sabit dhanya(grinded)
1 tbsp mix Garam masala(grinded)
2 tbsp yogurt
Salt(as you like it)
5 green chili large
2 tbsp Ginger paste
1 tbsp chopped Ginger
2 tbsp Butter
Special Chicken Karahi Method / Tarika:
Special Chicken Karahi
=======================
1. First heat the oil, then add chicken and (bhoonlain)
2. Add ginger paste.
3. Now mix it for few mints, then cut and add tomato, Mix it.
4. Now add all the masalas and mix it well until the tomatos add mix and (galjayen).
5. At the end add yogurt and green chili.
6. Let the water be dried out,and add butter and now low the temperature of your stove
7. Now slice the ginger and green chili and add it to you karahi.
8. your special chicken karahi is ready.
9. Enjoy it.