Orange Cheese Cake recipe by Zubaida Tariq. This delightful Latest recipe of Orange Cheese Cake can be ready in approximately 30 Minutes and good to serve around 2-4 People. Follow all the steps recommended by Chef to get a perfect dish.
Published Date : 12/27/2014
By :PK Mart
Detail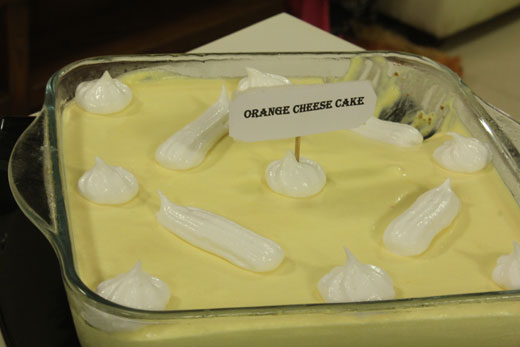 Ingredients
Cream cheese 200 g
Condensed milk 1 tin
Egg yolks3
Gelatin20 g
Orange juice 25 g
Whip cream 500 g
Candy biscuit1 packet
Butter 40 g
Egg whites3
Orange color1 tsp
Method
Beat yolks of 3 eggs I a bowl
Nowadd300 grams cream cheese, 1tin condensed milk, 20 grams gelatin and 25 grams orange juice
Then add 500 grams whipped cream and allow mixing.
Now add ½ tsp orange color.
Then fold in egg white and keep in deep freezer
Delicious orange cake is ready to serve.