Malai Chicken Tikka recipe by Zubaida Tariq. This delightful Main Course recipe of Malai Chicken Tikka can be ready in approximately 30 Minutes and good to serve around 2-4 People. Follow all the steps recommended by Chef to get a perfect dish.
Published Date : 12/25/2014
By :PK Mart
Detail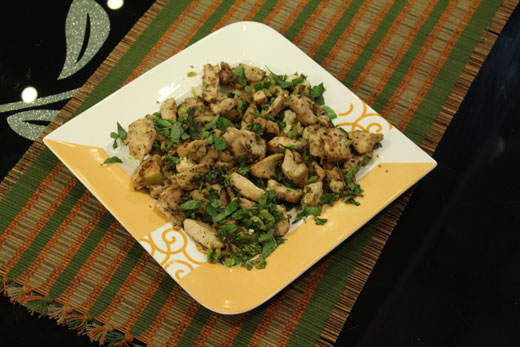 Ingredients
Chicken Boneless Boti½ kg
Chopped ginger 1 tbsp
Fresh Cream½ packet
Saltto taste
Chopped green chilies8
Crushed black pepper1 tsp
Butter1 tbsp
Oil or clarified butteras required
Method
Wash the chicken and keep it.
Hammer the chicken pieces and add in 1 tbsp ginger, ½ packet fresh cream, salt, chopped green chilies,1 tsp crushed black pepper and 1 tbsp butter. Keep it aside for some time.
Grease the tawa and add in the chicken cubes.
When the water dries add in some oil and cook them till they are golden brown.
In the end, serve them hot with nan.