Labnani Kabab recipe by Zubaida Tariq. This delightful recipe of Labnani Kabab can be ready in Minutes and good to serve around People. Follow all the steps recommended by Chef to get a perfect dish.
Published Date : 12/23/2014
By :PK Mart
Detail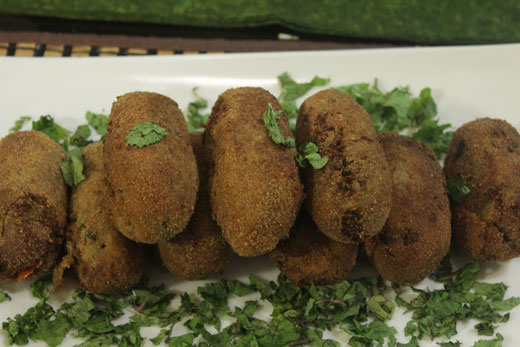 Ingredients
Mince 1 kg
Boiled macaroni 1 cup
Peas boiled 1 cup
Bread crumbs 1 packet
Eggs 2
Onion chopped 3
Potatoes boiled 3
Tomatoes 3
Green chilies 6 to 8
Ginger garlic paste 1 tsp
Crushed black pepper 1 tsp
Oil as required
Salt to taste
Method
In a pan put together 1 kg mince, 1 tsp ginger garlic paste, 3 chopped onion and salt to taste. Cook over low flame till mince tender and water dries.
Add in 3 chopped tomatoes, 6 to 8 chopped green chilies, 1 cup peas, 1 cup boiled macaroni and mix well. Now chop well in a chopper.
Now add in 1 tsp crushed black pepper and make long round kababs.
Now in a wok Heat oil as required.
Dip each kabab in beaten egg, roll in bread crumbs and deep fry in oil.
Remove from oil, spread on a paper and serve hot.