Lab-e-shereen recipe by Zubaida Tariq. This delightful Desserts recipe of Lab-e-shereen can be ready in approximately 35 Minutes and good to serve around 2-3 People. Follow all the steps recommended by Chef to get a perfect dish.
Published Date : 12/23/2014
By :PK Mart
Detail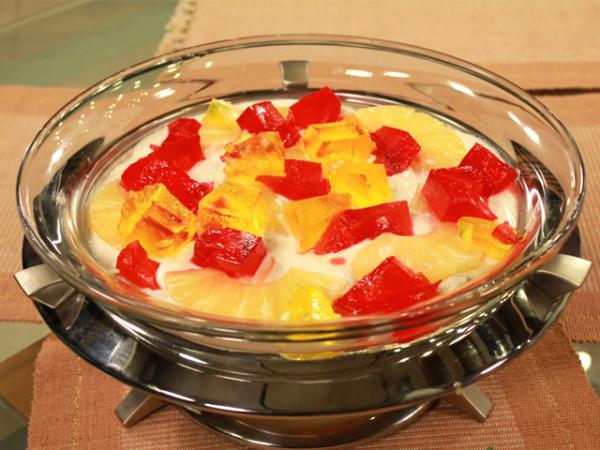 Ingredients
1 liter Fresh milk
1 cup Sugar
1 tin Pineapple sliced
1 packet Strawberry jelly powder
2 packets Fresh cream
as required Boiled noodles
10 to 12 Boiled and chopped almond
3 tbsp Vanilla custard
Method
In a pan put together 1 liter milk and 1 cup sugar. Cook till sugar dissolves. Mix 3 tbsp custard powder in ¼ cup milk, add this to boiling milk and cook till custard thickens.
In a serving dish make a layer of prepared custard, top with pineapple chunks, jelly cubes, boiled noodles and boiled chopped almond. Make another layer of custard on top.
Garnish with fresh cream, pineapple chunks, jelly cubes and chopped almond. Serve chilled.