Detail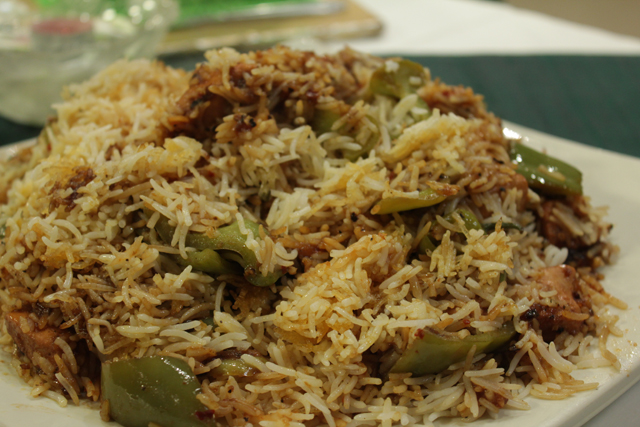 Ingredients
Chicken boneless ½ kg
Rice 2 ½ cup
Tomato ketchup ½ cup
Chili sauce 1 tbsp
Ginger garlic paste 1 tbsp
Capsicum chopped 4
Salt to taste
Onion ground 3
Soya sauce 2 tbsp
White vinegar 2 tbsp
Corn flour 2 tbsp
Crushed red pepper 1 tbsp
Green chilies sliced 6
Crushed black pepper 1 tsp
Kisan Cooking oil 1 cup
Ingredients for Boiled Rice
Whole green chilies 2
Whole black pepper 6
Salt to taste
Method
In a bowl mix together 1 packet boneless chicken, 2 tbsp soya sauce, 1 tbsp ginger garlic paste, 2 tbsp white vinegar and 2 tbsp corn flour. Keep aside.
Heat oil in a wok, add 3 ground onion and fry till its color turn to light pink.
Now add marinated chicken and fry till water dries.
Add 1 tbsp chili sauce, ½ cup tomato ketchup, 2 tbsp soya sauce, a little vinegar and salt to taste. Fry well and simmer on low flame.
Then add 6 chopped capsicum, 6 sliced green chilies and 1 tbsp oil. Stir fry till oil comes on top.
Boil 2 ½ cup rice with 2 whole green chilies, 6 whole black pepper, salt to taste and water as required till half done.
Spread half of the boiled rice in a greased pan, top with prepared chicken mixture.
Now cover with the remaining boiled rice.
Cover and Simmer on low flame till done. Dish it out and serve.