European Spicy Chicken recipe by Chef Zakir. This delightful Main Course recipe of European Spicy Chicken can be ready in approximately 30 Minutes and good to serve around 2-4 People. Follow all the steps recommended by Chef to get a perfect dish.
Published Date : 12/20/2014
By :PK Mart
Detail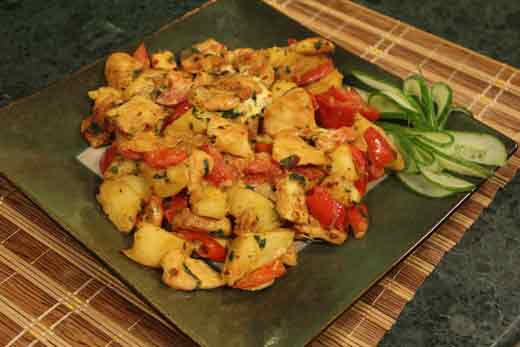 Ingredients
Chicken breast sliced2
Butter3 tbsp
Fresh red chilies chopped2
Honey1 tbsp
Crushed cumin seeds ½ tsp
Coriander leaves chopped2 tbsp
Potatoes (boiled & chopped)2
Red capsicum chopped1
Tomato1
Crushed red pepper½ tsp
Garlic3 – 4 cloves
Cream cheese2 tbsp
Turmeric¼ tsp
Salt to taste
Method
Heat 3 tbsp butter in a wok, add in 3 – 4 cloves of chopped garlic and sauté till golden brown.
Then add sliced chicken to the wok, fry well till its color turn to golden brown.
Now add 1 chopped capsicum, 2 chopped fresh red chilies and 2 chopped boiled potatoes. Cook for 1 – 2 minutes.
Then add in ½ tsp crushed cumin, ¼ tsp turmeric, ½ tsp crushed red pepper and salt to taste. Fry very well for 1 – 2 minutes.
Add 1 tomato cut into cubes, 2 tbsp chopped coriander leaves and 1 tbsp honey. Mix well.
Lastly add 2 tbsp cream cheese and mix it again. Now dish it out and serve hot.