Egg Jalferazi recipe by Zubaida Tariq. This delightful Main Course recipe of Egg Jalferazi can be ready in approximately 30 Minutes and good to serve around 2-4 People. Follow all the steps recommended by Chef to get a perfect dish.
Published Date : 12/27/2014
By :PK Mart
Detail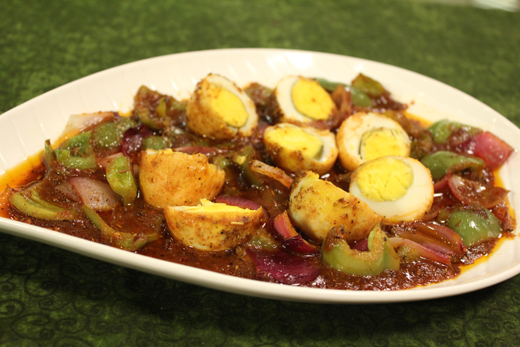 Ingredients
Eggs 4 (boiled)
Capsicum 2 (cubed)
Onion 2
Cloves 8
Tomato Ketchup 1 cup
oil ½ cup
ginger garlic paste 1 tsp
crushed red chili 1 tsp
Roasted & Crushed white cumin 1 tsp
chili sauce 2 tbsp
salt to taste
Method
Heat ½ cup oil in a pan and slightly sauté 1 tsp ginger garlic paste.
Now add 1 cup tomato ketchup, 2 tbsp, chili sauce, to taste salt, 1 tsp roasted & crushed cumin and 1 tsp crushed red chili and slightly sauté the mixture.
Now in another pan heat some oil and stir fry 2 cubed capsicums and 2 onions, add them to the mixture.
Now peel off boiled eggs, put 2 cloves on each egg (one on each side) and fry them in some oil in a frying pan.
Now in a serving tray, dish out the jalferazi mixture. Cut eggs in to two halves and place them in the serving tray over the jalferazi mixture. Add chili sauce over it.
Serve hot with white rice.