Custard Tart recipe by Zubaida Tariq. This delightful Desserts recipe of Custard Tart can be ready in approximately 30 Minutes and good to serve around 2-4 People. Follow all the steps recommended by Chef to get a perfect dish.
Published Date : 12/23/2014
By :PK Mart
Detail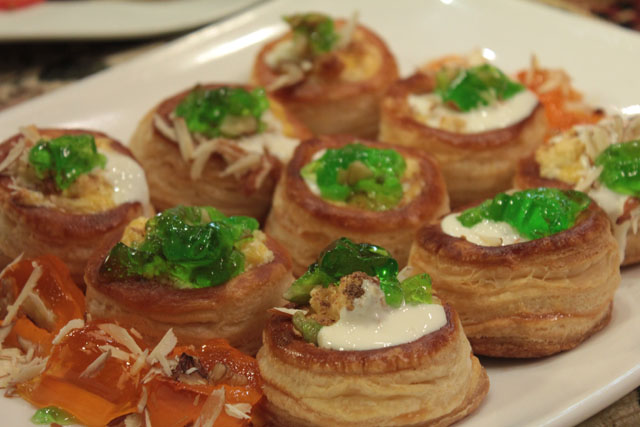 Ingredients
Flour 1 cup
Egg white 1
Milk 1 ½ cup
Ground nutmeg 1 tsp
Margarine 2 tbsp
Vanilla custard powder 3 tbsp
Sugar 4 tbsp
Cold water as required
Jelly for garnishing
Nuts for garnishing
Method
Sieve the flour in a bowl and put it in the food processor along with sugar and margarine. Blend it so it gets crumbly. Now add cold water to it and wrap it up in a plastic bag. Keep aside for half an hour.
Now roll it out flat and cut out small pieces out of it by the help of a pastry cutter. Take a muffin tray and start filling up the muffins and prick them by a fork. Now bake them in a pre-heated oven at 200 C for 15 minutes.
Now to make the custard cook milk, sugar and vanilla custard in a pan until thick, add in egg white to it and mix thoroughly well. Now pour this custard in the muffin tray over the baked pastry and sprinkle some ground nutmeg. Now bake it again for 10-12 minutes.
Finally, top with some jelly and nuts and serve.