Chutney Walay Aloo Gobhi recipe by Zubaida Tariq. This delightful Main Course recipe of Chutney Walay Aloo Gobhi can be ready in approximately 30 Minutes and good to serve around 2-4 People. Follow all the steps recommended by Chef to get a perfect dish.
Published Date : 12/27/2014
By :PK Mart
Detail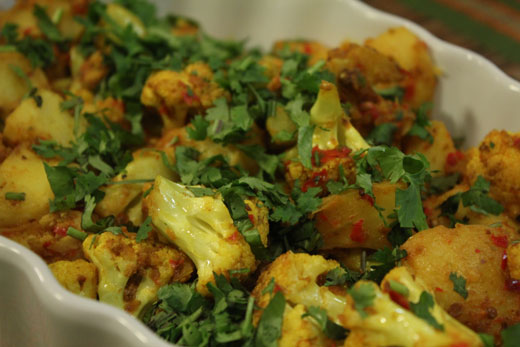 Ingredients
Potatoes5
Cauliflower1 flower
Turmeric1 tsp
Mustard powder2 tbsp
White cumin1 tsp
Lemons 2
Green chilies8
Garlic4 cloves
Fresh red chilies8
Chopped ginger 2 tbsp
Chopped green coriander½ bunch
Saltto taste
Oil1 cup
Method
Boil the potatoes.
Take 1 cup oil in the pan and add fry the potato cubes and then take them out.
Heat some oil in the pan and add in 4 chopped garlic and fry them till golden brown.
Add in cauliflower, 1 tsp turmeric and some salt. Stir fry it.
Take 8 green chilies, 1 tsp white cumin , 8 red chilies and grind it. And then add it in the cauliflowers and mix it.
Add in the fried potatoes, lemon juice, 2 tbsp mustard powder and 2 tbsp chopped ginger and cook it for 5 minutes.
Garnish it with chopped coriander and serve.