Detail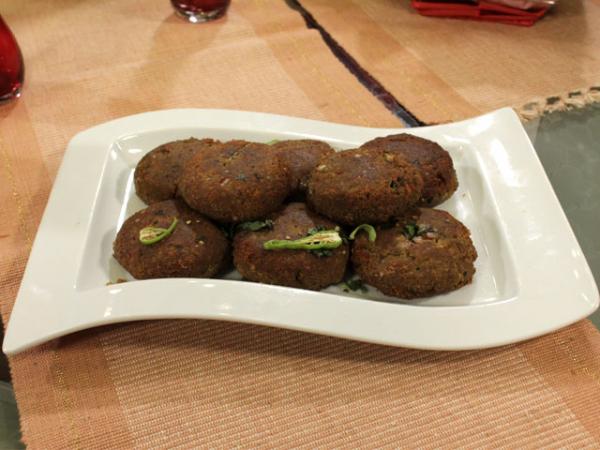 Ingredients
1/2 kg Beef (cut into cubes)
1 cup Gram lentils
2 Egg whites
3 Black cardamom
4 Black pepper
6 cloves Garlic
1 piece Ginger
1 tsp Black cumin
1 tsp White cumin
1 tsp Whole coriander
1 tbsp Yogurt
2 tbsp Rice flour
to taste Salt
for Chutney
1 bunch Coriander leaves
1 Onion chopped
2 Lemon
3 Red chilies
6 Green chilies
Method
In a pan put together ½ kg meat, 1
cup gram lentils, salt to taste, 4 black pepper, 1 tsp cumin seeds, 6 garlic
cloves, 1 piece of ginger, 1 tsp whole coriander and hot water.Cook till meat
is tender, add 1 tbsp yogurt and cool. Chop well in chopper.
In blender put together 6 green
chilies, 3 red chilies and 1 bunch of coriander leaves. Blend well.In meat
mixture add 2 tbsp rice flour and 2 egg whites. Mix well.Take a little mixture
in your hands, flatten and top with a little chutney. Make kabab and keep
aside.Now shallow fry with oil as required till golden brown and crispy. Serve
with chapatti.