Detail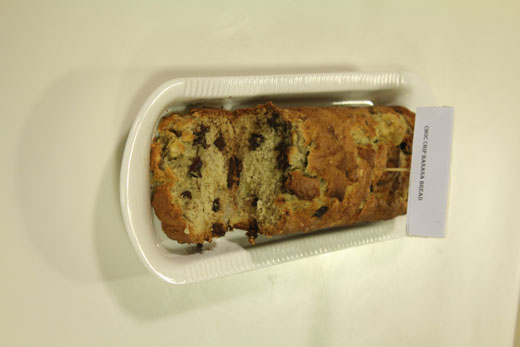 Ingredients
Flour2 cups
Baking soda1 tsp
Salt1/4 tsp
Egg 2
Sugar2/3 cup
Vanilla essence 1/2 tsp
Butter, melted1/4 cup
Bananas, mashed3
Chocolate chips 1/2 cup
Method
. Preheat oven to 180 degrees C.
2. Take a bowl whisk together 2 cups flour, 1 tsp baking soda and 1/4 tspsalt.
3. In another bowl, whisk together 2 eggs, 2/3 cup sugar, 1/2 tspvanilla Essence, 1/4 cup butter and 3 bananas. Whisk in flour mixture gradually. Fold in the 1/2 cup chocolate chips.
4. Grease a 9 1/2 x 5 1/2 loaf pan with a little butter and pour inmixture. Cook 50-60 minutes or until a toothpick inserted comes outclean. Bread will be golden brown.
5. Remove from oven, cool in pan for about 30 minutes. Remove frompan, place on cooling rack and cool completely before slicing.