Detail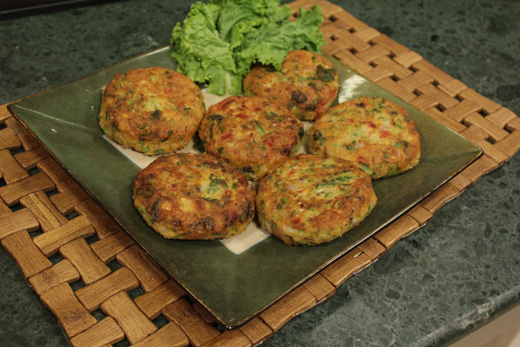 Ingredients
Chickpeas1 ½ cup
Capsicumhalf
Onion1
Tomato1
Coriander leaves¼ bunch
Mint leaves¼ bunch
Green chilies3
Saltto taste
Crushed red pepper½ tsp
Cumin seeds½ tsp
Coriander powder½ tsp
Dry mango powder½ tsp
Egg1
Gram flour3 tbsp
Oil for fry
Methods
Finely chop half capsicum, 1 onion, 1 tomato and 3 green chilies.
Boil 1 ½ cup chickpeas and the grind finely.
In a bowl mix together boiled mashed chickpeas, all the chopped vegetables, ½ tsp cumin seeds, ½ tsp coriander powder, ½ tsp crushed red pepper, salt to taste, ½ tsp dry mango powder, 1 egg and 3 tbsp gram flour.
Mix very well, make patties with the mixture, then shallow fry the patties with oil as required until golden brown and crisp.
Serve with any dip.