Biryani recipe is my favorite, so i try biryani recipes with different variation and Arabic Chicken biryani recipe is given unique taste. Serves: 6 persons Preparation time : 20 minutes Cooking time : 1 hour, 30 minutes
Published Date : 12/19/2014
By :PK Mart
Detail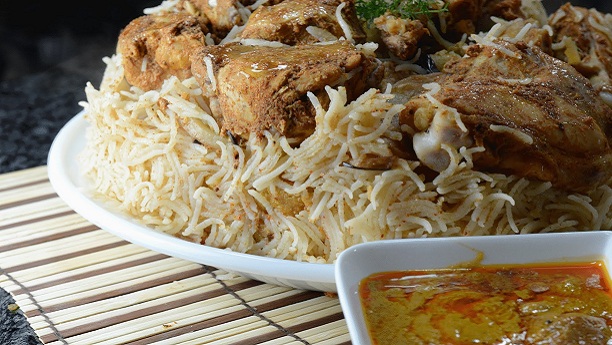 Ingredients :
1200 g whole Chicken, cut into 8 pieces
8 cups Water or 2000 ml
2 dried Limes
2 Knorr Chicken Cubes
2½ cups basmati rIce or 500 g, washed and drained
2 tablespoons Ghee
3 medium Onions or 450 g, slIced
1 cup yoghurt or 250 g
¾ Teaspoon ground black pepper
¾ Teaspoon ground cumin
¾ Teaspoon ground Coriander
¾ Teaspoon ground turmeric
¾ Teaspoon ground Cardamom
¾ Teaspoon ground Cinnamon
3 Cloves Garlic, crushed
1 Teaspoon ground Saffron, soaked in ¼ cup or 60ml hotWater
Arabic Chicken Biryani Method / Tarika:
1) Place chicken pieces and water in a large pot, bring to boil and remove froth as it appears. Add the dried limes and Knorr Chicken cubes. Cover and simmer over low heat for 30-40 minutes or until chicken is tender.

2) Remove chicken pieces from the stock, add rice to the chicken stock (around 6 cups or 1500ml) and boil the rice for 10 minutes or until almost cooked. Drain the rice and set aside.

3) Heat the ghee in a large pot, add and cook the onions, stirring for 5-7 minutes or until golden brown. Add the cooked chicken pieces to the onions and stir to combine.

4) Combine the yogurt with the spices and the garlic and pour over the chicken. Add half the quantity of the cooked rice to cover the chicken in the pot.

5) Sprinkle half the quantity of saffron water over the rice, cover with the rest of the rice and then sprinkle with the rest of saffron water.

6) Cover and cook over low heat for 25–30 minutes or until the rice is cooked.

7) Serve on a large serving dish and garnish with fried nuts.