Apple Mango Trifle recipe by Zubaida Tariq. This delightful Desserts recipe of Apple Mango Trifle can be ready in approximately 30 Minutes and good to serve around 2-4 People. Follow all the steps recommended by Chef to get a perfect dish.
Published Date : 12/23/2014
By :PK Mart
Detail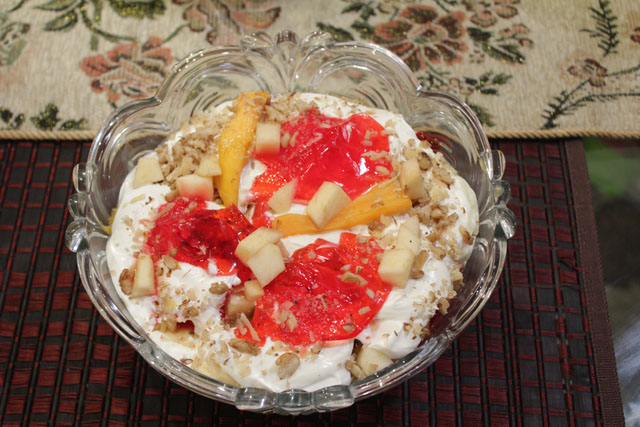 Ingredients
Apples 2
Mangoes2
Vanilla Custard 3 tbsp
Fresh Milk 1 liter
Fresh cream 2 packets
Walnuts ½ cup
Strawberry Jelly Powder 1 packet
Sugar 1 cup
Method
Peel and slice 2 apples. Sprinkle some lemon juice and some sugar on it. Also slice 2 mangoes. Dissolve one packet strawberry jelly in hot water then pour it in the dish and cool it to set.
In a separate wok, take 1 liter milk and 1 cup sugar. Cook it and when sugar dissolves mix 3 tbsp vanilla custard in some cold milk. Add the custard paste in the wok and stir it continuously with a cooking spoon till the milk thickens.
Keep it aside to cool. Take some prepared custard in a bowl then give a layer of apples and mangoes on it. Sprinkle walnuts on it and give another layer of custard on it. Garnish it with mango and apple slices, fresh cream, jelly and walnut. Refrigerate it and serve it cold.