Detail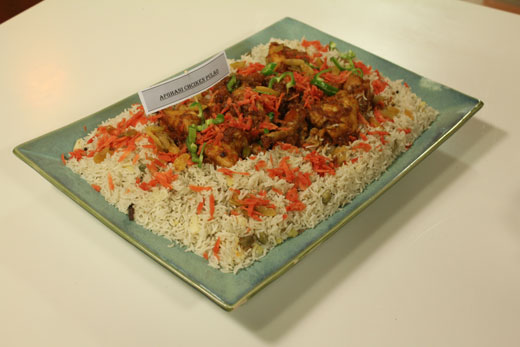 Ingredients
• ½ kgchicken
• 4 -5 pieces garlic
• 1 teaspoonginger, chopped
• 2 onions (chopped)
• 8green cardamoms
• 1 teaspoon coriander seeds
• 1 teaspoon cumin seeds
• 1 teaspoon cloves
• 3 cinnamon sticks
• 2 -3 green chilies, chopped
• 1 teaspoon red chili powder
• 2 tomatoes , chopped)
• 2 cups rice
• 2 tbspcooking oil
• 5 cups hot water
• ½ cup raisins,to decorate
• 1 carrot gratedto decorate
Method
Mix chicken, garlic, ginger, cloves, cinnamon, onion, coriander
seeds, small cardamoms, salt and water in large pot. Stir well and cook
for 30 to 40 minutes on medium heat till the chicken is cooked. Separate
the meat from the stock and keep aside. The stock should measure 4
cups. If there is more, boil it down till you get 4 cups. Heat oil in
large pan, fry onions till light golden. Add chicken pieces, chopped
tomatoes, green chilies, red chili and cumin seed. Stir well Cook on
medium flame till its turn in light golden. Now add stock/ Cook till
the mixture comes to a boil, then add rice. Add stock and cover. Stir
gently to mix all ingredients. Cover with a tight fitting lid. Lower
heat and allow to cook for about 10 minutes or until rice is tender but
yet firm. Place pan on a tava and let cook for 10 to 15 minutes.