Aalo Ka Halwa recipe by Zubaida Tariq. This delightful Desserts recipe of Aalo Ka Halwa can be ready in approximately 30 Minutes and good to serve around 2-4 People. Follow all the steps recommended by Chef to get a perfect dish.
Published Date : 12/23/2014
By :PK Mart
Detail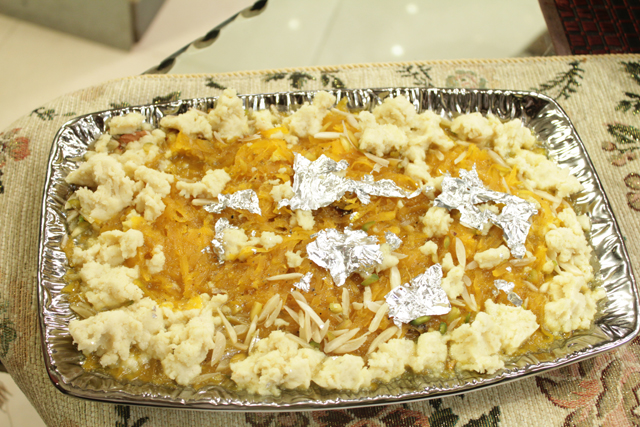 Ingredients
Potatoes ½ kg
Zerda rung a pinch
Sugar 2 ½ cup
Cardamom 6
Sugar 1 tsp
Khoya 250 grams
Almonds 10
Boiled pistachios 15
Oil 2 tbsp
Method
Grind cardamoms and 1 tsp sugar together. Heat water in a skillet and add in peeled, mashed potatoes with a pinch of zerda colour, sieve it after 5 minutes.
Heat oil in a wok and add in cardamom and fry lightly. Add in sugar and ½ cup water and dissolve the sugar completely. Then add the mashed potatoes and cook for 2-3 minutes.
Now convert it in to a platter, add in khoya, pistachios and almonds. Garnish with silver cuttings and serve.