Yaki Chicken recipe by Chef Zakir. This delightful Main Course recipe of Yaki Chicken can be ready in approximately 30 Minutes and good to serve around 2-4 People. Follow all the steps recommended by Chef to get a perfect dish.
Published Date : 12/22/2014
By :PK Mart
Detail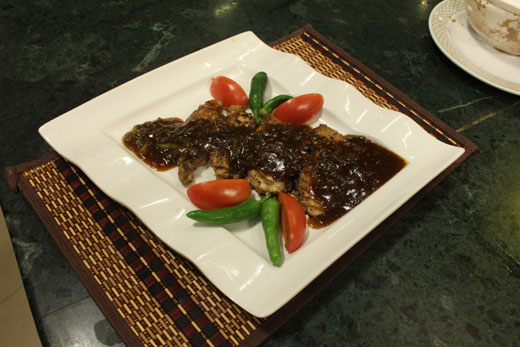 Ingredients
Chicken breast2
Saltto taste
Ginger garlic paste1 tbsp
Black pepper powder½ tsp
White pepper powder½ tsp
Honey3 tbsp
Capsicum chopped1
Spring onion1
Worchester sauce2 tbsp
Tomato ketchup2 tbsp
Soya sauce2 tbsp
Corn flour2 tbsp
Chicken stock½ cup
Oil 4 tbsp
Method
Cut each chicken breast into two layers. Marinate with salt, soya sauce and a little black pepper.
Now cook in a grill pan with a little oil till tender. Keep aside.
Heat 2 tbsp oil in a wok, add 1 tbsp ginger garlic paste and sauté.
Then add 1 chopped capsicum and cook till softened. Now add 3 tbsp honey, 2 tbsp Worchester sauce, 2 tbsp soya sauce and 2 tbsp tomato ketchup. Cook for 1 – 2 minutes.
Then add in ½ cup chicken stock, 1 chopped spring onion and salt to taste. Cook for a few minutes.
Thicken sauce with 2 tbsp corn flour paste. Mix well.
Cut grilled chicken into strips and arrange in a serving platter. Pour prepared sauce on top. Serve with boiled rice.