Mutton Chiniotti recipe by Chef Zakir. This delightful Ramadan Recipes recipe of Mutton Chiniotti can be ready in approximately 30 Minutes and good to serve around 2-4 People. Follow all the steps recommended by Chef to get a perfect dish
Published Date : 12/19/2014
By :PK Mart
Detail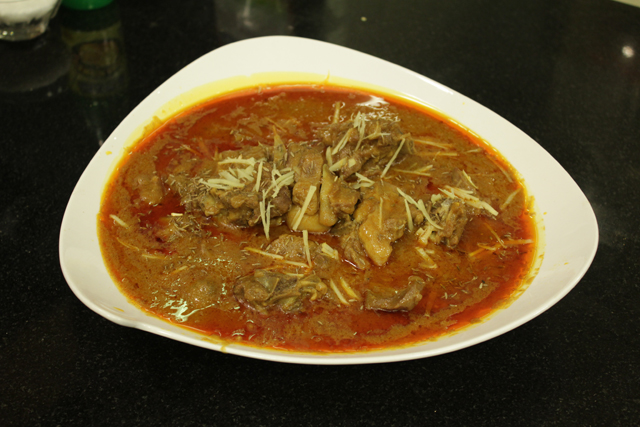 Ingredients
Mutton 1 kg
Onion chopped 2
Cumin seeds 1 tsp
Roasted crushed cumin 1 tsp
Ginger garlic paste 2 tbsp
Ginger 1 piece
Coriander powder 2 tbsp
Chili powder 2 tbsp
Turmeric 1 tsp
Wheat flour 2 – 3 tbsp
Water 1 cup
Salt to taste
Method
Heat ½ cup oil in a wok, add 2 chopped onion, 1 kg meat and 2 tbsp ginger garlic paste. Fry very well.
Now add 2 tbsp coriander powder, 1 tsp turmeric, 1 tsp cumin seeds, 2 tbsp chili powder, salt to taste and 1 glass of water. Cook on low flame till meat is tender.
Now fry well till water dries.
Mix 2 – 3 tbsp wheat flour in ½ cup water and add to the wok, cook till gravy thickens.
Lastly top with 1 tsp roasted crushed cumin and ginger juliennes. Dish it out and serve with naan.