Detail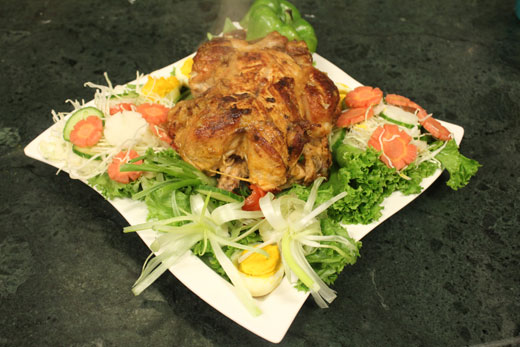 Ingredients
Whole chicken1
Ghee1 cup
Yogurt1 cup
Ginger2 tsp
Garlic2 tsp
Cloves6
Cardamom6
Brown onion2
Almond25 gm
Raisin25 gm
Onion ground1
Chili powder2 tsp
Kewra1 tbsp
Saffrona pinch
Methods
Wash 1 whole chicken, marinate with 1 cup yogurt, 2 tsp ground ginger, 2 tsp ground garlic, 1 ground onion, 1 tsp salt and 2 tsp chili powder. Keep it marinated for 2 hours.
Finely chop 2 onions and keep aside.
Stuff chicken with 25 gm blanched almond, 25 gm raisin, 1 boiled egg and brown onion.
Seal the chicken properly and tight with a string.
Heat 1 cup ghee in a wok, add in marinated chicken and fry well till golden brown. Remove chicken and keep aside.
In the remaining ghee add 6 cloves, 6 cardamom and remaining marinade mixture, also add a little brown onion and fry well.
Now add fried chicken and a little water, simmer on low flame till chicken is done.
Lastly add a pinch of saffron dissolved in 1 tbsp kewra. Remove in a serving platter and serve with bakar khaani naan.