Detail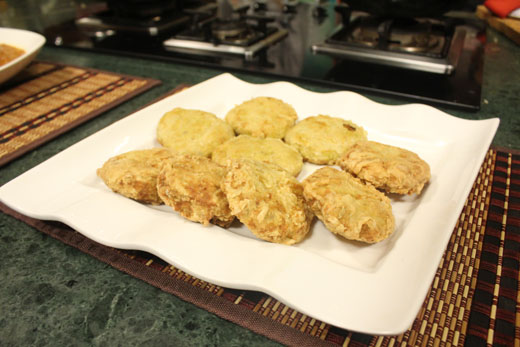 Ingredients
Chicken mince½ kg
Boiled gram lentils125 gm
Boiled almond50 gm
Boiled pistachio50 gm
Crushed cumin seeds1 tbsp
Crushed coriander seeds1 tbsp
Crushed red pepper1 tbsp
Garlic4 – 5 cloves
Ginger2 inch piece
Onion1
Nutmeg mace powder½ tsp
Turmeric1 tsp
All spice powder1 tsp
Egg boiled1
Egg beaten2
Flour1 cup
Oilfor fry
Salt to taste
Methods
In chopper put together mince and boiled gram lentils, chopperize well.
Then add ginger, garlic and chopped onion. Chopperize again till smooth mixture is formed.
Now add boiled egg, crushed red pepper, crushed cumin seeds, turmeric, all spice powder, nutmeg mace powder, salt, boiled almonds and boiled pistachios. Chopperize again.
Remove mixture in a bowl, make medium sized kabab.
Dip each kabab in beaten egg, coat with dry flour. Again dip in egg and coat with flour.
Shallow fry till golden brown and crisp. Serve with chutney.