Detail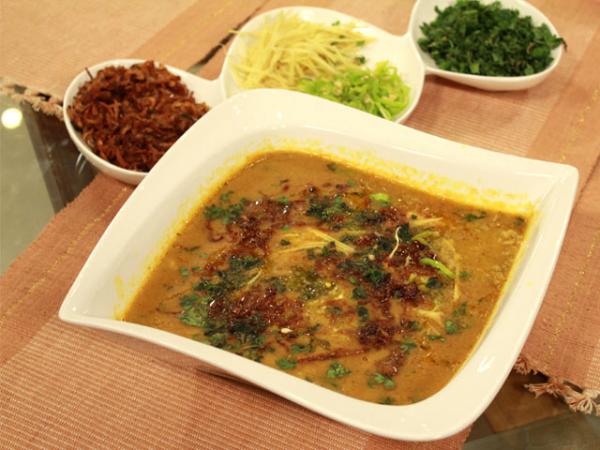 Ingredients1 ½ kg Chicken
1/2 kg Wheat
1 cup Gram lentil
1 cup Yogurt
1 cup Oil
a pinch Baking soda
3 Onion chopped
1 tsp Turmeric
1 tsp All spice
1 tbsp Ginger garlic paste
1 tbsp Chili powder
to taste Salt

For Serving
1 bunch Mint leaves chopped
1 bunch Coriander leaves chopped
2 cup Oil.
4 Onion
8 Green chilies chopped
8 Lemon
3 tbsp Ginger julienne
3 tbsp All spice.
3 tbsp Roasted & ground cumin
Method
Cut chicken into 12 pieces. Wash 1/2 kg wheat and 1 cup gram lentils with lukewarm water. Soak in water as required. Now remove extra water of wheat, boil with fresh water. Also add in 1 tbsp oil and mix with a wooden spoon.When it comes to a boil add in a pinch of baking soda.
Separately boil gram lentils and blend well. In pan put together chicken pieces, 3 chopped
onion, 2 to 3 cups of water, 1 tbsp ginger garlic paste, 1 tbsp chili powder, 1 tsp turmeric, salt to taste, 1 tsp all spice and 1 cup oil. Cook well till water dries.
Add in 1 cup yogurt, fry well. Now add boiled wheat with a little water. Cook over low flame. Put pan on a hot griddle. Simmer on low flame. Heat 2 cup oil in pan, add in 4 chopped onion and fry till golden brown, now remove brown onion and spread on a paper. Leave it till crisp.
Pour haleem in a serving bowl, top with chopped coriander leaves, chopped mint leaves, chopped green chilies, ginger juliennes, roasted ground cumin and all spice powder. Serve hot.