Detail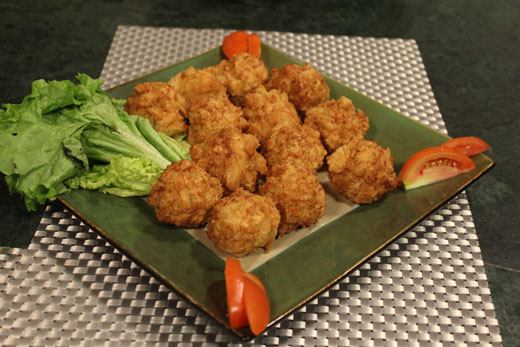 Ingredients
Prawns 250 gm
Chicken breast1
Egg1
Garlic4 cloves
Ginger1 medium piece
Corn flour2 tbsp
Flour1 tbsp
Bread slices6
Crushed red pepper1 tbsp
Black pepper powder½ tsp
Saltto taste
Oil for fry
Method
In chopper put together 250 gm washed and cleaned prawns with 1 chicken breast. Chopperize finely.
Then add 1 egg, 4 cloves of chopped garlic, 1 medium piece of chopped ginger, 2 tbsp corn flour, 1 tbsp flour, 1 tbsp crushed red pepper, ½ tsp black pepper powder and salt to taste. Mix well.
Remove mixture in a bowl.
Now remove crust of bread slices and discard. Crumble the bread slices and add to the chicken prawn mixture.
Make small balls with the mixture, now deep fry the prepared balls till golden brown.
Remove from oil, drain on an absorbent paper and serve with ketchup.