Detail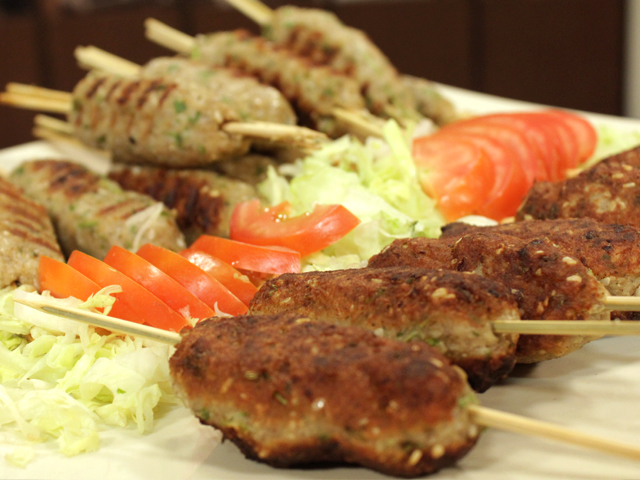 Ingredients
Chicken mince ½ kg
Parsley chopped ½ bunch
Onion 1
Lemon 1
Beaten egg half
Cashew nut 25 gm
Peanut 25 gm
Garlic 3 – 4 cloves
All spice 1 tsp
Cinnamon powder ½ tsp
Black pepper powder ½ tsp
Cardamom powder ½ tsp
Sesame seeds 2 tbsp
Flour 2 tbsp
Fresh cream 2 tbsp
Oil 3 tbsp
Shashlik sticks as required
Salt to taste
Methods
In chopper put together ½ kg chicken mince, 1 tsp alls spice, ½ tsp cinnamon powder, salt to taste, ½ tsp black pepper powder, ½ tsp cardamom powder, ½ bunch of parsley, 1 onion, 3 – 4 cloves of garlic, juice of 1 lemon, 25 gm cashew nuts, 25 gm peanut, 2 tbsp sesame seeds and 2 tbsp fresh cream.
Chopperize finely and remove mixture in a bowl.
Add in 2 tbsp flour and half egg. Mix well.
Make kabab on shashlik sticks.
Now cook in a grill pan with a little olive oil till golden brown.
Remove in a platter, serve with naan, pita bread or boiled rice.